I think I might be closing in on find out where my mojo has been hiding!! I've really enjoyed the Band Sampler RR that I signed up for. I signed up for it, so hopefully reignite my love of stitching and the desire to do so!! I think that's happening! Recently I've finished Karen's RR, shipping it off to my friend Jo in England!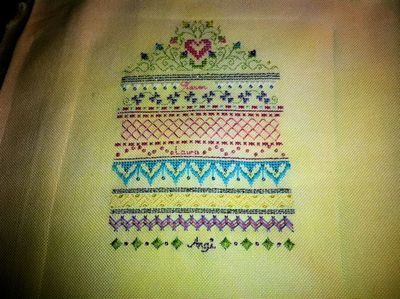 I really loved all the bright colors! Yellow, as most people who know me know, is NOT my favourite color! But I did enjoy picking bands that I thought Karen would like! I've also got SOME progress on my Waterlily from Mirabila. I've been putting in the metallic in her dress - I did order the Kreinik even though I *hate* it, and am using it in her dress area. However, the wings are this same color, and I'm just not sure that's going to work on her wings!! I also always convert to Delicas, but am having a very hard time finding the beads for this one! Ahh, well. Here's the picture!
I'm hoping to do some more on her this week, but I have received the next RR, and it's pretty intensive, so I'm going to give it a lot of love!!